ABOUT THE COMPANY
Thank you for visiting In Bloom Florist, your premiere Orlando Florist! We are a family owned and operated florist located in central Florida. We have stores in Orlando and Heathrow / Lake Mary. We deliver to most of central Florida including Orlando, Oviedo, Lake Mary, Lake Buena Vista, Disney, Winter Park, Heathrow, Windermere, Ocoee, Winter Garden, Winter Springs, Casselberry, Altamonte Springs and Longwood.
History of In Bloom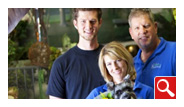 In 1980, John Kobylinski started a seemingly uneventful job as a delivery person for a flower shop in Orlando. He was working on a degree in Ornamental Horticulture and he hoped this job would offer some hands-on practical experience. Although it wasn't planned, within three years he learned how to design arrangements, make sales calls and handle the accounting aspects of the floral business.
In 1983, he was promoted to the manager of a small flower shop in town and grew the revenue by 500% within seven years. By 1989, John had opened five other locations for this corporation and was managing the day-to-day operations for flower shops in Tallahassee, Melbourne, Altamonte Springs, and two Orlando locations.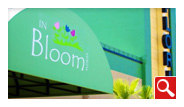 In 1990, John was able to pursue a dream to open his own flower shop. The shop was located in South West Orlando, and was called Orlando Flower Mart. It was located close to area hotels, yet easily accessible to I-4 and the East-West Expressway. This allowed him the opportunity to serve both the residences and businesses in Orlando. John had a green thumb with plants as well as sales and grew his business one satisfied customer at a time.
Towards the end of 1998, John started looking for a way to expand his business and customer base. He found an opportunity to open a second shop in Heathrow. Due to the location, the shop couldn't be called Orlando Flower Mart. He wanted to find a name that would work for both stores that would help build a brand name and image. He decided to name the shop In Bloom Florist at Heathrow and he would rename the original location In Bloom Florist at Orlando Flower Mart.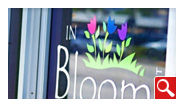 At the end of 2001 John's wife, Sally, joined the business as the Vice President. Since this time, John and Sally have been focused on building a team of talented and dedicated employees.
Each order starts with our sales team, which strives to match floral expressions with our customers' emotions. Next, the designers use their talent and creative flair to make each bouquet as individual as the feeling being sent. Finally, the delivery team ensures that each sentiment arrives perfectly and timely.
As a team, In Bloom Florist can exceed the expectations of their customers. They offer savvy customers the freshest flowers with exceptional service... one bloom at a time.